Abesco Fire has moved to a new facility to supply your fire-stop needs!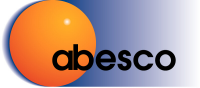 Abesco Fire LLC
9777 Satellite Blvd
Unit 120
Orlando, Florida 32837
407-851-3300
Our larger facility is here to serve you!  How can we help you today?
Abesco Fire LLC is a leading designer and manufacturer of Passive Fire Protection Products. We produce a range of products suited to a wide variety of applications and hold International testing and certification.
With 20 years experience in this market, we promote a tried and tested 'mature' product line for all your firestopping requirements, all third party tested and certified for use all over the globe. As one of the markets leading firestop manufacturers and with distribution channels throughout the world, we are convinced you will not be dissapointed with our extensive range of products and our reputation for great customer service. We have been designing and manufacturing fire protection solutions for over 15 years and provide you with a 'one stop shop' for all your passive fire protection needs.
Our website is packed with information from general product info to in depth technical details. All our products are extensively tested to a variety of International testing standards including UL1479, EN1366 and BS476 to name a few.
If you don't find what you are looking for then please contact us and we will be happy to help.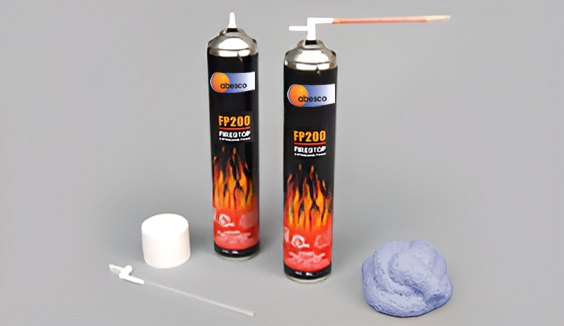 FP200 FR Expanding Foam
Abesco FP200 FR Expanding Foam is a single pack fire rated polyurethane expanding foam, and is designed to prevent the spread of fire and smoke from one compartment to another through gaps and voids through fire rated walls or floors. Made to fill gaps, small openings, and crevices in and around fire rated walls and floors, the Abesco FP200 uses polyurethane expanding foam which prohibits fire and smoke from spreading. Read More…
---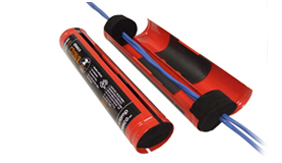 CT120 Cable Transits
Abesco CT120 Cable Transits are firestop devices which are designed to allow cables to penetrate fire rated floors and walls. The transits can be opened to provide an easy retro-fit option where cables are pre- installed, and are designed to allow for the installation or removal of additional cables. When exposed to temperatures of approximately 300 °F the graphite based intumescent material begins to expand (intumesce) rapidly to form a solid insulating char plug which effectively closes and seals the CT120 to prevent the passage of fire. Read More…
---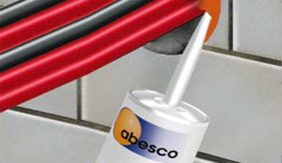 CP310 FR Acrylic Intumescent Caulk
Abesco CP310 FR Acrylic Intumescent Caulk is designed to prevent the spread of fire from one compartment to another wherever services penetrate separating walls and floors, or wherever a gap remains between elements in fire rated walls or floors. Abesco CP310 FR Acrylic Intumescent Caulk is a water based acrylic caulk, which provides a firm but flexible seal to joints in a variety of fire rated structures. Read More…
---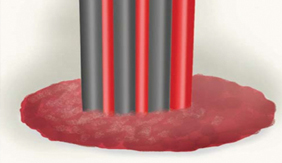 Fire Rated Putty
Abesco Fire Rated Putty is an intumescent elastomer that remains flexible and can be easily hand molded to fit around cable bundles and other irregular shaped services. When correctly installed it provides a cold smoke and draft seal and up to 3 hours fire resistance.
Abesco Fire Rated Putty adheres to all commonly used building materials, and is supplied in easy to use sticks. Read More…
---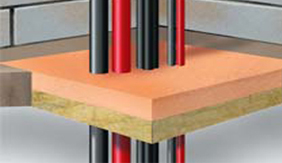 Fire Rated Mortar
Abesco Fire Rated Mortar is a pre-mixed dry blend, consisting of inorganic fillers and foamed perlite. When mixed with water it produces a trowelable or pourable grade non-spalling, thermally insulating fire seal. Whilst curing, the mortar expands by approximately 1% ensuring a tight seal around penetrations and within the opening. Once installed Abesco Fire Rated Mortar sets within approximately 30 minutes allowing works to be completed without the need to re-visit the site.Read More…
---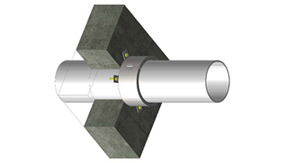 Z240 Pipe Collars
Abesco Z240 Pipe Collars consist of a zinc coated factory formed steel shell, which contains heat reactive intumescent material. When exposed to temperatures of approximately 300 °F the graphite based intumescent material begins to expand (intumesce) rapidly to form a solid insulating char plug which effectively closes and seals openings where plastic pipes penetrate thru fire-rated walls and floors. Read More…
9777 Satellite Blvd. Unit 120
Orlando, Florida 32837 USA
Phone:
407.851.3300
Fax:
407.851.3388
Toll Free:
888.FIRESTP
Email:
Info@usabesco.com