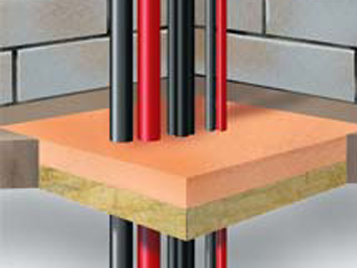 Abesco Fire Rated Mortar is designed to maintain the fire resistance of compartment walls and floors.
Abesco Fire Rated Mortar is a pre-mixed dry blend, consisting of inorganic fillers and foamed perlite. When mixed with water it produces a trowelable or pourable grade non-spalling, thermally insulating fire seal. Whilst curing, the mortar expands by approximately 1% ensuring a tight seal around penetrations and within the opening. Once installed Abesco Fire Rated Mortar sets within approximately 30 minutes allowing works to be completed without the need to re-visit the site.
Expands slighty during cure
Suitable for large or small irregular openings
Easy to use
Simple to retro-fit additional services
Does not spall
Abesco Fire Rated Mortar is particularly suitable for reinstating compartment floors where HVAC ducts, plastic pipes, and electrical services have been installed. Small irregular holes and imperfections of fit can easily be repaired using Abesco Fire Rated Mortar.
| | | | | | |
| --- | --- | --- | --- | --- | --- |
| Code | Description | Color | Unit | Case | Pallet |
| | | | | | |
Physical State: Free flowing powder
Colour: Off-white
Nominal Dry density: Approximately 72 lb / cubic feet
Flash Point: N/A
Solubility in water: Approximately 1%