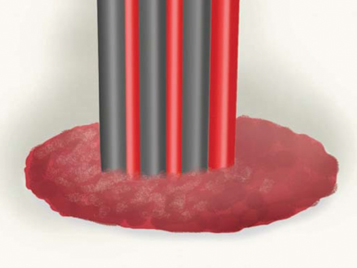 Abesco Fire Rated Putty is an intumescent elastomer that remains flexible and can be easily hand molded to fit around cable bundles and other irregular shaped services. When correctly installed it provides a cold smoke and draft seal and up to 3 hours fire resistance.
Abesco Fire Rated Putty adheres to all commonly used building materials, and is supplied in easy to use sticks.
Halogen free formula
Free from corrosive gases during a fire
Minimal odor
Long shelf life – Putty will not dry out or crumble
Semi-permanent
Easily re-enterable
Adheres to all common building surfaces
Easy application
No special tools required
Non-toxic, contains no asbestos
Used to seal construction gaps, cable, insulated pipe, electrical conduit, and metal pipe, penetrations against air draft, smoke, noxious gas and flame propagation.
| | | | | | |
| --- | --- | --- | --- | --- | --- |
| Code | Description | Color | Unit | Case | Pallet |
| 30750 | Fire Rated Putty | Red – Brown | 9 in. Stick | 18 | 1800 units |
Substrate Compatibility:
Cement
Gypsum
Wood
Plastic
Metal and Plastic electrical boxes
Physical Properties:
Color: Red-Brown
Volume: 13.85 cu. in.
Density: 10-12 lbs/gal (1,20-1,45 kg/l)
Length: 9 in.
Width: 1.4 in. diam.
Specifications:
The Fire Rated Putty shall be a one part, intumescent elastomer. Under normal environmental conditions, the material shall be noncorrosive to metal and compatible with synthetic cable jackets. When exposed to flame or heat it shall be capable of expanding and meet the requirements of UL 1479, ASTM E-814.
Maintenance:
Abesco Fire Rated Putty is stable under normal conditions. Normal stock and stock rotation practices are recommended. This product is not impaired by freezing; however, it should be warmed to at least 32°F (0°C) before applying.